Placement Tests
📣  

Placement Test Update!
PLEASE NOTE!!! 
Due to the ongoing concerns of COVID-19, we have decided it is in the best interest of our incoming students and their families to transition all new student orientation sessions (May through August 2020) from in-person experiences to an online format called 

NSO...

 

To-Go!

 
Because of this change, we will 
NOT be able to offer Placement Testing
 during our Summer/Fall 2020

NSO...

 

To-Go!

 programming. 
It is important that UNM has all of your available academic records on file!

 Your Academic Advisor will use this information to determine your course placement so, be sure to send UNM all of your ACT/SAT scores, Official Transcripts from other institutions (including Dual Credit courses) and any AP / CLEP / IB exam scores you may have. 
Your Academic Advisor will be contacting you 2-weeks before your 

NSO...

 

To-Go!

 session. If you have any questions or concerns about this change, please ask your advisor about alternative options. We apologize about any inconvenience this decision may cause. 
🐺 Go LOBOS! 🐺
---
Spring Orientation DOES NOT provide Testing services during the Orientation session. 
Summer Orientation sessions have time build into the agenda for eligible students to take their placement tests. More information about placement testing will be communicated after your student registers for a session if they are eligible for placement testing. 
General Information about UNM course placement is included below.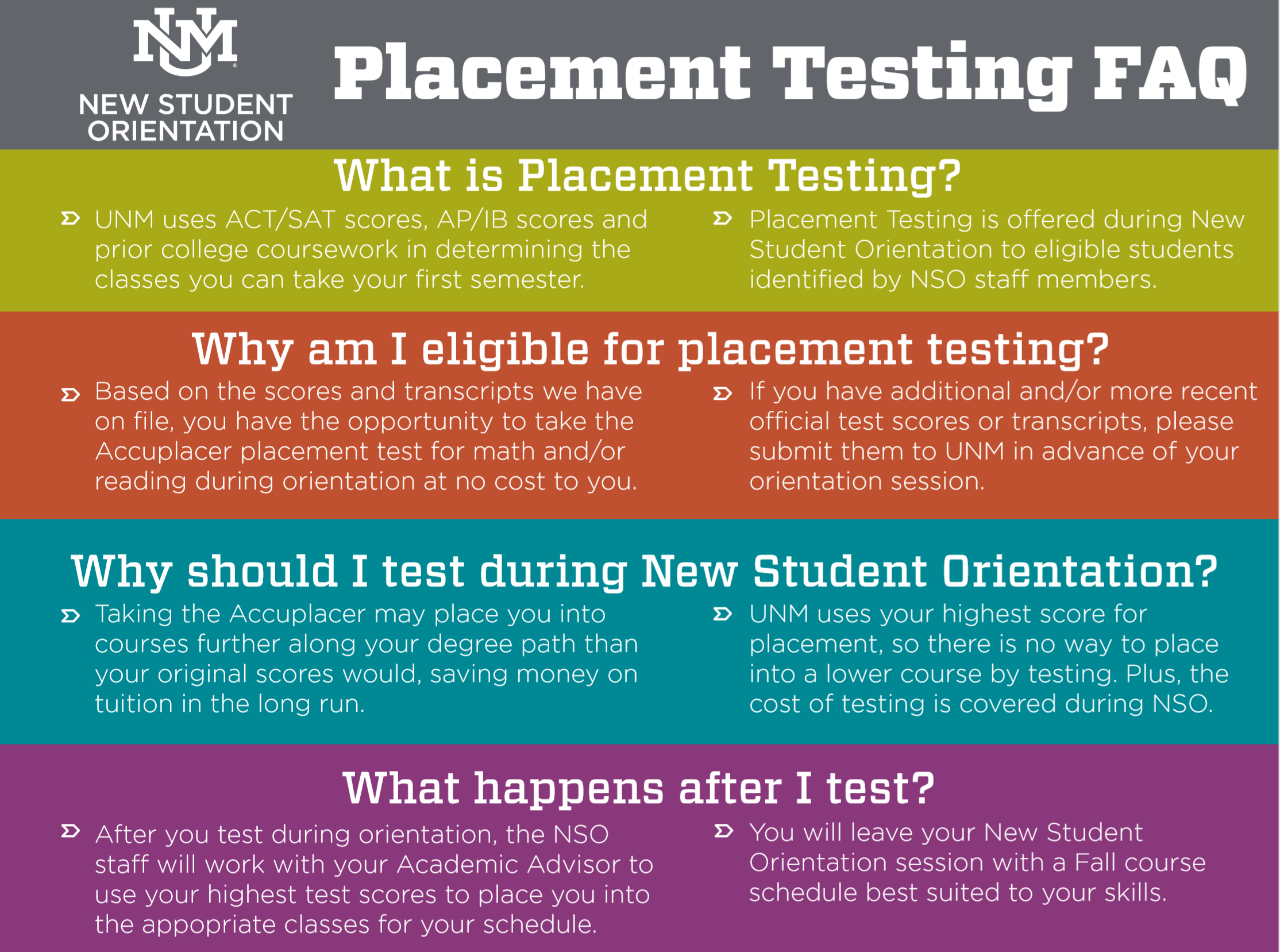 Course Placement
Placement is determined by ACT or SAT Scores or transfer work which includes AP and IB exam results. Additionally, students may challenge their course placement for Reading, English, and Math by taking the ACCUPLACER Exam. ACT, SAT, and ACCUPLACER scores guide advisors for placement purposes, but students will not receive college credit based on those exams.
How can I prepare for the Accuplacer Exam?
1. Visit NMDELT's EdReady Webpage.
2. Click Get Started to create an account, and follow the instructions. 
3. View the Student Quickstart Guide.
4. Log-in and enter a Goal Key:
    A. Math: nmdelt_254
    B. Reading & Writing: nmdelt_255
5. Take the Initial Diagnostic Test to determine what you already know and what you need to work on. 
6. Begin working on your Learning Path. The higher you can get your score, the better prepared you will be for the Accuplacer Exam.
Email Cash Clifton, Academic Foundations Coordinator at cclifton4@unm.edu with questions or concerns.
Multiple ACT/SAT/Next Generation ACCUPLACER Scores
Advisors ought to take the highest score from each attempt to determine placement. The registration system only recognizes scores that we have received directly from the testing source. An advisor can temporarily consider unofficial test scores as viewed, via the student, from the testing website; however, the student must provide the official scores to the University prior to the semester beginning or risk being dropped from the relevant course due to insufficient test scores.
Students may take the Next Generation ACCUPLACER multiple times as outlined and advisors will consider the highest score in course placement.
What if a student took the Next Generation ACCUPLACER somewhere other than UNM?
Have the student request the score(s) be sent to UNM from the testing center in which they took the exam. Instruct the student to include their UNM ID number to insure the scores are assigned to the student's record.
How does transfer credit affect course placement?
Many new students come to UNM with transfer work from either Dual Credit or Early College work during high school, or because they began their college career elsewhere. UNM requires Official transcripts from each institutions attended and all transfer work is considered in course placement. Advisors may consider courses in progress by viewing class schedules, and may temporarily consider unofficial transcripts for registration. However, the student must provide the official transcripts to the University prior to the semester beginning or be dropped from the relevant course due to insufficient placement.
Advanced Placement (AP) and International Baccalaureate (IB) Credit
Students are encouraged to take challenging college prep high school classes including AP and IB. College credit may be awarded for certain scores as outlined. UNM typically receives scores in July for exams taken in May. The best practice for advising students before their scores arrives is to place them into courses based on the information at hand during the advising session. Students ought to contact their advisor when scores arrive and merit college credit to revise their semester plan of study.
Course Placement Table
The following is the University's guide for course placement based on ACT, SAT, or ACCUPLACER scores.